By LIZETTE ALVAREZ and STEVE KENNY /New York Times, photos by: Phelan M. Ebenhack/Associated Press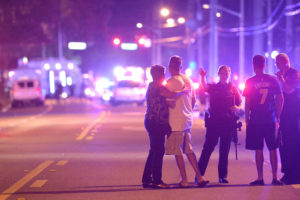 Police officers in Orlando, Fla., directing people away from a nightclub where they said a gunman opened fire early Sunday. CreditPhelan M. Ebenhack/Associated Press
ORLANDO, Fla. — A gunman killed 50 people and wounded 53 in a crowded gay nightclub in Orlando early Sunday, officials said, in the worst mass shooting slaughter in American history, and law enforcement officials said it was an act of terrorism.
The gunman was Omar Mateen, an American citizen living in Port St. Lucie, Fla., federal law enforcement officials said.
The killer stormed the Pulse nightclub armed with an assault rifle and a handgun — investigators were still looking into the possibility that he had explosives, as well — at about 2 a.m., when more than 300 people were inside dancing and drinking, said John Mina, the Orlando police chief.
The gunman exchanged fire with an off-duty police officer working security at the club, then mowed down dozens of patrons, sending hundreds of others, some of them bleeding, fleeing down the darkened streets of the surrounding neighborhood.
The gunman holed up inside with dozens of people effectively held hostage, some of them hiding in a restroom frantically calling for help, until after 5 a.m., when the police, using an armored vehicle and stun grenades, assaulted and killed him. The raid saved about 30 people, Chief Mina said.
Ronald Hopper, an assistant agent in charge of the F.B.I.'s Tampa Division, raised the possibility that the killer was an Islamist radical, and law enforcement officials said they were investigating the slaughter as an act of terrorism.
"We do have suggestions that that individual may have leanings towards that, that particular ideology," Agent Hopper said at a news conference. "But right now we can't say definitively, so we're still running everything around."
Federal law enforcement officials said they had found no indication so far that the attacker was linked to any wider organization, though they and the police were investigating several possible terrorism angles, both overseas and in the United States. Past terrorist attacks, like the massacre in December in San Bernardino, Calif., were carried out in the name of Islam by people who were "self-radicalized," apparently having no direct ties to any organization but inspired by groups like the Islamic State and Al Qaeda.
The Islamic State in particular has encouraged "lone wolf" attacks in the West, specifically the United States, a point reinforced recently by the group's spokesman in his annual pre-Ramadan speech. Noting that some supporters have lamented that they cannot strike at military targets, he took pains to explain why killing civilians in the land of the infidel is not just permitted but encouraged.
Terrorist groups have not claimed responsibility for the Orlando shooting as yet, but a social messaging account linked to the Islamic State gloated about the attack.
Lizette Alvarez reported from Orlando, and Steve Kenny from New York. Richard Pérez-Peña contributed reporting from New York.