What does humanity mean to you?
A good friend once said, "Humanity is being able to empathize and care for another human without asking anything in return." I truly believe in this, because good intentions are intentions, but good deeds are deeds. At the same time, for me, humanity comes when we learn to understand everyone's situation before telling on them. The freedom and explicit acceptance without giving big doubts on someone's capacity to survive the diversity of life. It's letting people move to where they want to go and helping them grow in simplicity. Humanity includes everyone living on Earth. And its more like letting everyone live in harmony with no limits, but with fair guidance to produce good and kindhearted people." – Mari Lucris Diploma Bernardo,HR,Traveler
The Yuppie
Mari Lucris Diploma Bernardo, born in Quezon City, lived in Cavite for 5 years and Iloilo. She studied at Assumption Iloilo since Prep to 4th year Highschool but graduated at Central Philippine University taking up BS Psychology.
"I have two nicknames, childhood is Angel and Lucy in highschool. Oh yah, my birthday, February 8, 1989. Just do the math to get my age. Hahaha!", she said during the interview.  She was an agent for one year and a month at Convergys Shaw, she is currently an HR Assistant for AMA Corporate Office. She is what you call a typical yuppie, living the corporate life.
Lucy at work with the HRD Team, AMA Head Office
After a year of working as an agent, she felt the need to leave and explore the things she only hear or read about. So, through her friends encouragement, " I started traveling with my friend October 2013. I really dont have the means but my close friend made me realize its a good feeling and you'll learn a lot, not just the environment but everything about life. I travel with friends yah but I'm planning to do a backpacking solo trip before the year ends. I can't go with big groups but I am helping myself out of it. Well yah. I'm a starter for traveling but I hope to travel more in the coming days."
Diving in Bagalangit, Mabini, Batangas            Windmills of Ilocos                  Maginhawa  food park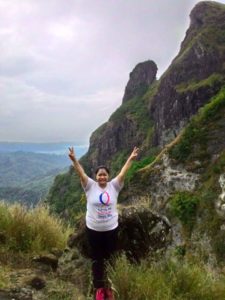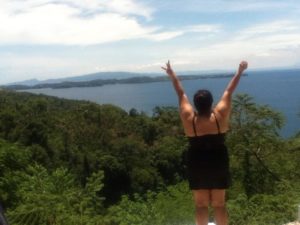 Mt. Pico de Loro, Ternate, Cavite              Puerto Galera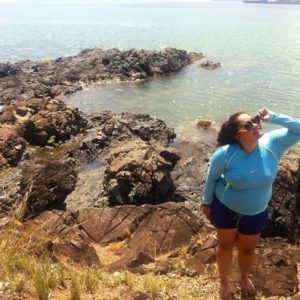 Subic Bay,  Zambales
To date Lucy travelled to Boracay, Mt. Pico de Loro, Pagudpud Beach, Kapurpurwan Rock Formation, The Light House, Windmills in Laoag, Calle Crisologo in Vigan, Paoay Church, Puerto Galera, Anini-y in Antique, Sandbar in Concepcion Iloilo, Guimaras, Pansol in Laguna, Antipolo, Subic, Corregidor, Airballoon Festival in Pampangga, Calaguas and went scuba diving in Mabini, Batangas and Campuestohan and Ruins in Talisay.
Theres so much to see, so much to do but so little time. But for Lucy, this is just the beginning. After all, "you only live once!"