Part I
"Buruanga is a municipality in the province of Aklan, Philippines. It is located at the most western tip of Panay Island.
The name Buruanga came from the word "Busuanga" meaning eruption or swell. Frequently harassed by inundations from the river, the early residents constructed earthen dams which were subsequently washed away.
The people named the river "Busuanga," which later became the name of the Municipality. When the Spaniards arrived, they changed the name "Busuanga" to Buruanga, or perhaps the change was purely a clerical error." – "An act creating the municipality of Malay in the province of Capiz". LawPH.com. Retrieved 2011-04-09.

I woke up early today looking forward to meet my friend Hanzel. I have been friends with Hanzel since Law school in Central Philippine University, I would always hear him tell our classmates how beautiful the beaches, diving spots and caves in the place where he grew up. So when he invited me to visit him, i did not hesitate and packed my bags to explore Buruanga, his hometown.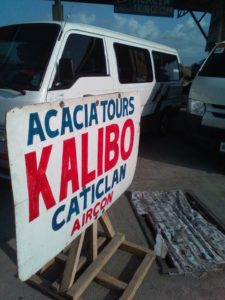 From Roxas City, Capiz, where I am currently residing I took a tricycle going to the Roxas City terminal located at Pueblo de Panay, I paid Php 25.00 (€0,472) to the driver. From there I took a van , which can hold a maximum capacity of 19 including the driver, the only means of transportation going to Kalibo from my city.
Roxas City is an hour and a half away from Kalibo Aklan by van, the fare is Php 120.00 (€2,264). The vehicle goes directly to the terminal in Aklan. After reaching Aklan, I asked the driver, " how do I get to Buruanga?" He said I have three (3) options, I could take the jeepney that goes straight to Buruanga or take a van going to Caticlan and then from there take another jeepney or a motorcycle going to Buruanga and a bus.
I chose the second option. Buruanga is 81 kilometers (50 mi) from the capital Kalibo, it will take another two (2) hours to reach the Caticlan, the fare is Php100.00 (€1,888). I took the van so I can take a nap since I lack sleep. I slept late the night before because I was busy preparing for the trip and chatting with my partner on Skype.