Kapamilya Actor Enchong Dee has donated 500 sets of personal protective equipment (PPE) and food for COVID-19 volunteers to the Office of the Vice President (OVP).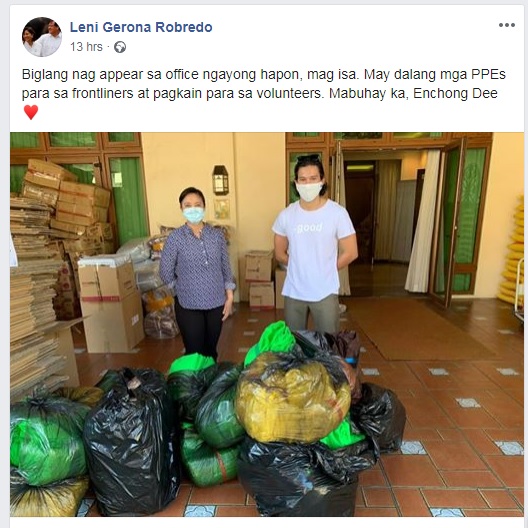 In the Official Facebook page of the Vice President Leni Robredo,  she posted how thankful she was to Enchong and his friends for supporting the frontliners. She also mentioned that Enchong personally delivered the PPEs and food.
The Office of the Vice President has been working non-stop with the relief efforts to aid health workers and front liners amid the COVID-19 pandemic. The OVP only has a P664-million budget for the entire year. But that did not stop her from making an effort to contribute to the needs of our countrymen especially the frontliners.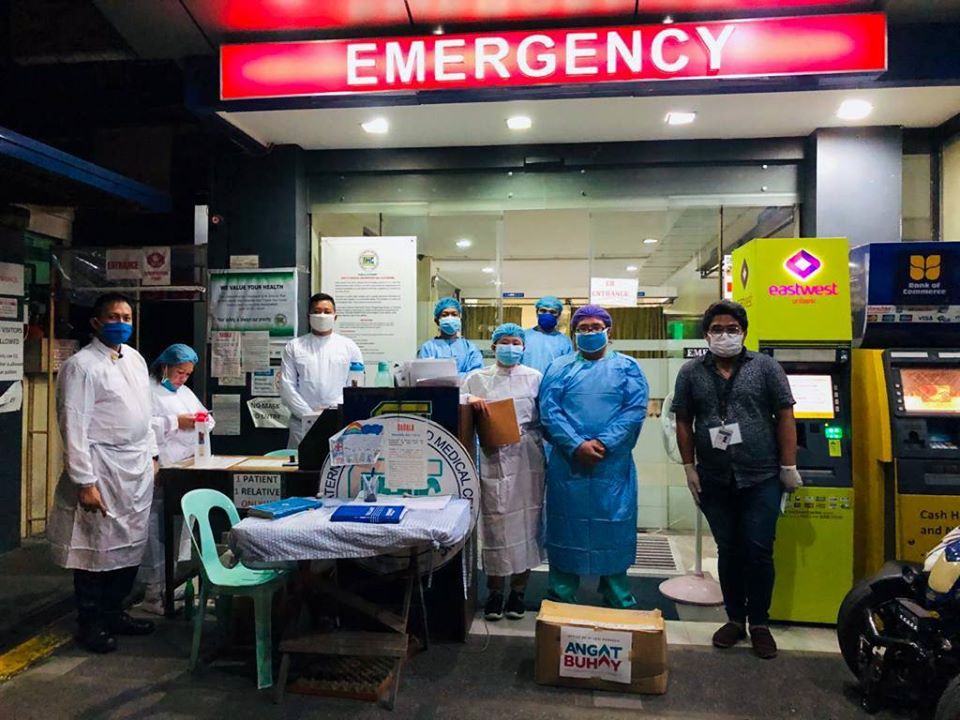 In her interview with CNN Philippines VP Leni Robredo said , "This is a time for us to be united. Set aside politics for now. This is not the time for us to keep score. This is not the time for us to think this is a competition. This is a time when not just government officials, but the government and the private sector, should all work together because the need is insurmountable."
Below is a timeline of the relief efforts from the Office of the Vice President, :
Information and pictures grabbed via VP Leni Robredos Official Facebook account https://www.facebook.com/VPLeniRobredoPH/
The OVP launched a fund drive for the purchase of the Personal Protective Equipment (PPE) sets for health workers on March 13, three days before President Rodrigo Duterte placed Luzon under enhanced community quarantine which banned mass transport and resulted in work stoppage in industries to prevent mass gathering. To date, the OVP and the Kaya Natin! Movement have raised over P50.9 million from private donors, enough to buy 116,262 PPE sets for medical workers. Of that amount, P5.9 million alone came from Robredo's office. .

The OVP and its private donors offered free shuttle service for health workers and health facility employees on March 18. The free shuttle service initially had six routes. You may check her official facebook page to see more routes added everyday.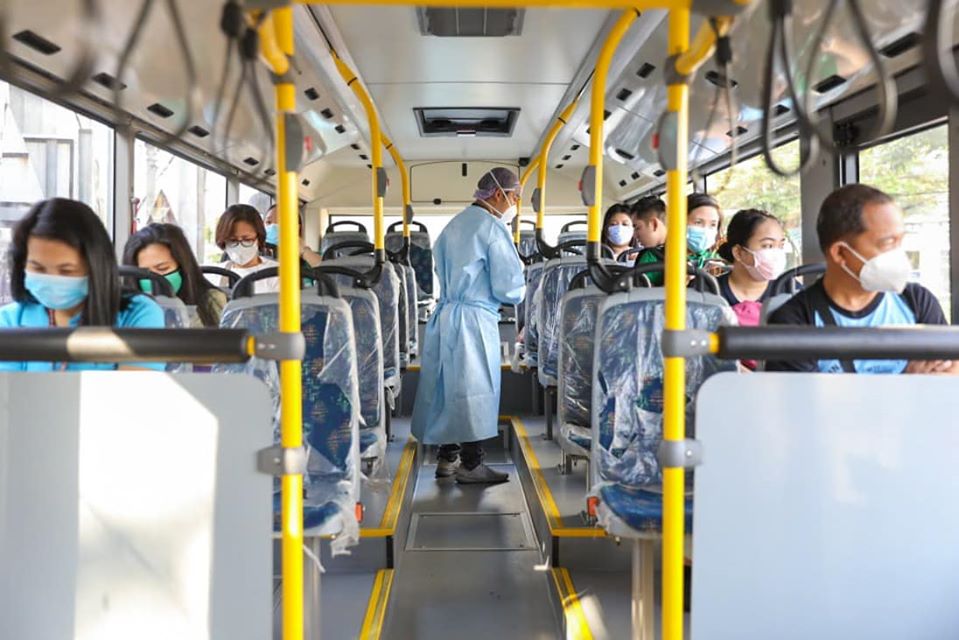 Since March 16 the OVP started accepting donations of food for health care workers and other front liners from its private donors. These meals are being continuously distributed to our health workers.

 On March 26, the first dorm for healthworkers was opened in  Cubao Quezon City. Two days later a second dorm opened at the Teachers Village in Quezon City, followed by dorms at Roxas Boulevard, Manila and Sampaloc, Manila.

In March 31, boxes of aerosol were turned over to various hospitals dealing with COVID-19 patients on these hospitals include: Lung Center of the Philippines, Philippine Heart Center, Research Institute for Tropical Medicine (RITM), Rizal Medical Center, Dr. Jose N. Rodriguez Memorial Hospital, The Medical City – Pasig, St. Luke's Medical Center – Quezon City and St. Luke's Medical Center – BGC, among others.


Now, Vice President Leni Robredo's office and its partner organizations for its anti-poverty program Angat Buhay are currently operating 15 dorms in Metro Manila and one each in Baguio City, Legazpi City, Mariveles, and Tacloban City and the Visayas which caters to all frontliners who are battling the coronavirus pandemic for free.FREE DORM. A staff from the Office of the Vice President checks a room in their free dormitory for frontliners in Cubao, Quezon City. Photo by Charlie Villegas/OVP

The Enhanced Community Quarantine ("ECQ") currently being implemented and enforced in Luzon (which includes Metro Manila) is extended to April 30, 2020.

All existing circulars, orders, and advisories on travel restrictions and government operations will remain effective until the end of the extended ECQ.

Featured image ctto via Rappler