I received an invitation from the Social Media Club in Frankfurt (SMCF) to attend the exhibit at Frankfurter Kunstverein, one of the first exhibition houses in Germany.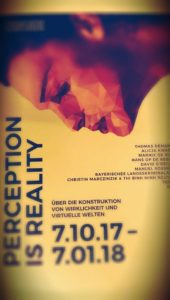 Perception Is Reality: On the Consttruction of Reality and Virtual Worlds
Partcipating artists: Thomas Demand, Alicja Kwade, Marnix de Nijs, Hans Op de Beeck, David OReilly, Manuel Roßner, the Bavarian State Police (Bayerisches Landeskriminalamt), Christian Marczinzik & Thi Binh Minh Nguyen, Toast.
"The exhibition poses questions about the basic conditions of perception today and how we construct our own conception of reality out of the. Technological systems are connecting people, data, and processes more and more closely together. Immerse techonologies will increasingly replace analogue surroundings with virtual data rooms, therefore radically changing the way that we interact socially, work, and how we organize free time,"according to Franziska Nori, director of Kunstverein and curator of the exhibit.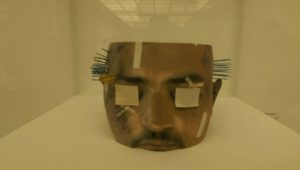 This exhibit connects the individuals perception to technical constructed realities. We were introduced to an exhbition of present range analog and digital works, virtual reality which was pretty fun, conceptual photography, installations, technical forensics application as well as innovative games.
Frankfurter Kunstverin allows people to take pictures and videos inside the gallery except for a painting, which the artist respectfully ask the guests to respect. And if I may say, there are a lot of IG worthy pictures inside. Bloggers, Instagrammers, Writers, Photographers and Social Media Influencers of Frankfurt were all having a blast because we were all able to integrate social media and art in one night and was able to share it to our followers and readers. The Frankfurter Kunstverin has a German and English tour.
By the end of the night, the exhibit was truly entertaining and fun. It makes the audience raise the questions about the intellectual, emotional and aesthetic implications of artificial visual worlds. Personally for me, Perception is how you make of it.
So, I'm inviting all of you to come visit and experience another world of a new forward-looking medium, virtual reality, into a contemporary art exhibition.
The exhibit will run until January 7, 2018.
To know more about Frankfurter Kunstverein please visit their website: https://www.fkv.de/en/presse
Frankfuter Kunstverein
Steinerness Haus am Römerberg
Markt 44, D – 60311 Frankfurt Main