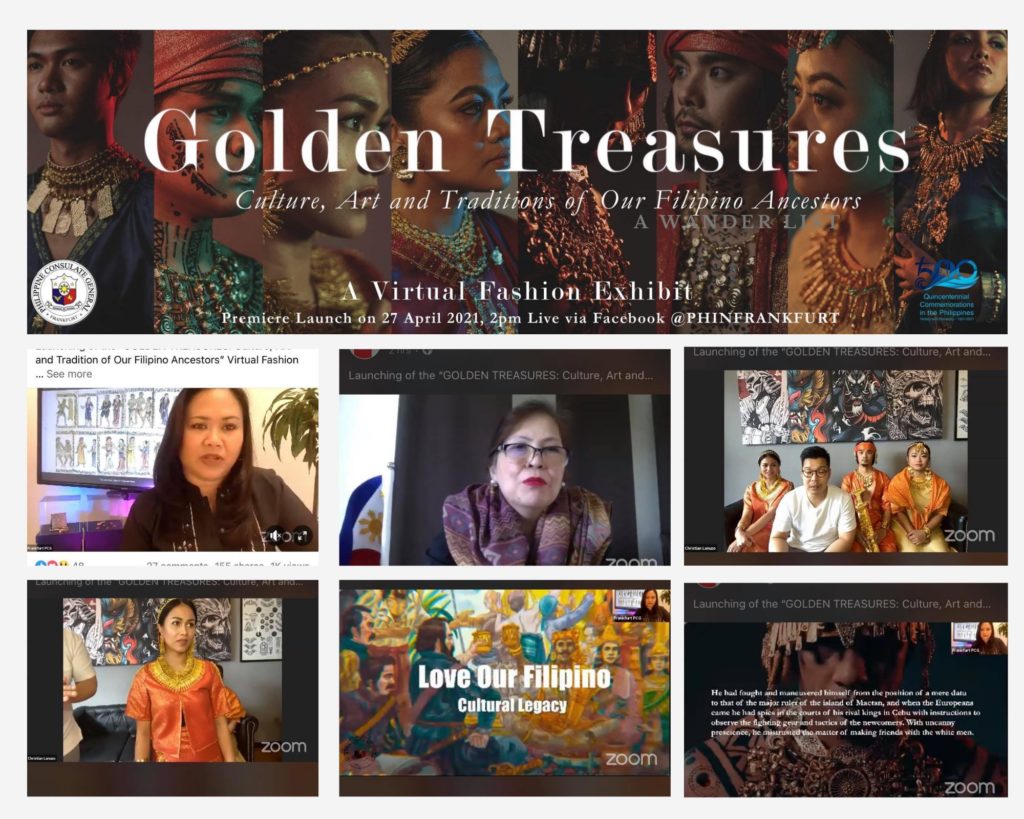 PRESS RELEASE
'QUINCENTENNIAL-THEMED' VIRTUAL FASHION EXHIBIT CREATES RENEWED CONSCIOUSNESS OF FILIPINO CULTURAL HERITAGE IN EUROPE
27 April 2021- In celebration of the National Heritage Month and as part of the Philippine Consulate General in Franfurt's contribution to the ongoing 2021 Quincentennial commemorations in the Philippines, a virtual fashion exhibit entitled, "Golden Treasures: Culture, Art and Tradition of Our Filipino Ancestors," was held today featuring the "Quincentennial-themed" collection of Filipino fashion designer Lionell Christian Lanuzo. The event was streamed live in the Consulate's Facebook account.
During the launch of the exhibit, Consul General Evelyn D. Austria-Garcia expressed hope that the Consulate would be able to raise awareness of the country's rich pre-Hispanic history and underscoring the magnanimity, compassion and humanity of Filipinos in helping the impoverished crew of the Magellan expedition. She also thanked Mr. Lanuzo and his team for sharing their talent and skills in promoting Philippine heritage in Germany and the rest of Europe. Secretary Teodoro R. Locsin's message for the National Quincentennial Commemorations was read by Consul Rogelio E. Villanueva.
For his part, Mr. Lanuzo expressed appreciation for the opportunity and support given by Post to showcase the talent of Filipinos abroad. He expressed optimism that through his fashion collections, a renewed consciousness of our history would be cultivated among Filipinos abroad.
The Golden Treasures collection contains elements of the Philippines' pre-colonial past. Mr. Lanuzo, who was commissioned by the Consulate to undertake the project, drew inspiration from the 16th century Boxer Codex in showcasing the people, clothing, ornaments, and body painting of Filipinos during the 15th century. The evolution of the aesthetic image of our Filipino ancestors in the light of traditions, beliefs, and rites were the central focus of his collection.
The Consulate also set up a physical exhibit at its exhibition area featuring gold replicas and colorful illustrations of some images of the Boxer Codex and twelve of the thirty-four historical markers of the sites of the Philippine route of the Magellan-Elcano expedition. END
About Author