This climb will  Benefit the Kids Beneficiaries of Barangay 3, Igbaras, Iloilo.
They are looking for donors and those who are interested to join the climb on Nov. 17, 2018 (sat) to Nov. 18, 2018 (sun) at  Mt. Napulak, Igbaras, Iloilo. An Overnight Climb.
Estimated budget for the climb is between Php 700-1000.
1 guide for 8 people will also be available.
Mount Napulak is the most prominent mountain peak in Igbaras. Its unique shape and massive rock formations attracts climbers from all over the world. Located at Brgy. Tigbanaba, Igbaras, Iloilo and with a total elevation of 3,936 feet above sea level (1,200 m), this mountain is not for the faint of heart.

Don't forget. For an overnight stay in Mt. Napulak, bring your own tent. Now that the chills of the Christmas season can be felt, bring the appropriate clothing that could protect you from the cold weather or the rain.
How to get there :
From Iloilo City, get a jeep near the Iloilo Supermarket or Mohon Terminal. The first trip is usually at 6 AM in the morning and it takes about 40 minutes going to the town proper. Tell your driver to drop you off at the police station which is behind the municipal hall.
At the Igbaras police station all climbers/tourist are asked to register their names and secure habal-habals for their transportation to Barangay Bagay.  After a 20 minute ride, you will arrive at Brgy. Bagay., jump-off point.
Possible routes:
Poblacion – Bagay – Mt. Napulak (5 – 8 hours)
Poblacion – Tigbanaba – Mt. Napulak ( 4 – 7 hours )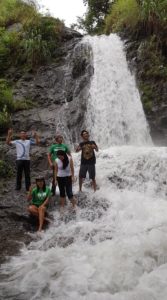 Last year, these brave group had their first climb for a cause in Tanay, Rizal which benefited 50 Dumagat children.
"I was not expecting that were doing something really great for our children benes. I thought those are just school supplies that we can give the children. However a teacher told us that he was so thankful for what we had shared. He added that the children will have to make thousand of barbecue sticks to afford all the things that we gave them. We were able to raise Php 18, 000 donation. We gave each 50 bene child a backpack and almost a complete set of school supplies." – Hazel Jean Simpas, Organizer

Climb for a cause in Tanay, rizal 2017
After the climb, the groups outreach for the Kids Beneficiaries of Barangay 3, Igbaras, Iloilo will be on November 24th.
Now climbers, remember the golden rule:  "Leave nothing but footprints, take nothing but pictures, kill nothing but time."
Have fun, enjoy nature and help humanity all at the same time. Stay kind.
For more details of the climb you may contact:
Ms. Hazel Jean Simpas
09999610985
hazeljsimpas@yahoo.com