Eine Person hat den Anschlag nicht überlebt. Sie wurde vom Attentäter erstochen. Hier wird die Leiche abtransportiert Foto: Thomas Knoop
At about 13:10 GMT, a man held a knife and as he enterred the supermarket two witnesses heard him saying "Allahu akbar!" or "God is greatest" and proceeded with the attack. Killing a 50-year-old man believed to be a German citizen and seriously injuring six others.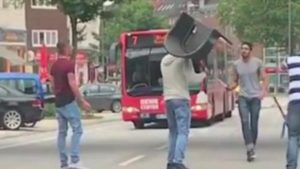 Foto: https://www.youtube.com uploaded by Imran Rastagar
The attacker escaped but the locals decided to take matters in their own hands by following him, while others armed themselves with improvised weapons, such as chairs and sticks. The locals overpowered him and alerted the police to his location, and he was arrested shortly afterwards near the crime scene.
"I thought I was in a horror movie, I thought he would kill me," an unnamed woman who had been in the supermarket told rolling news channel NTV.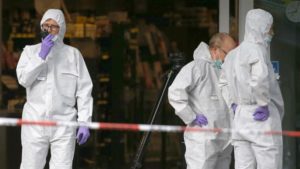 The 26-year-old suspect was known to police and was born in the UAE [Morris Mac Matzen/Reuters]
The attack happened inside a supermarket in the Barmbek district, a suburb outside of the northern port city.
The suspect is a 26-year-old who was born in the United Arab Emirates, police said on Friday evening. They said they are still working to establish his nationality. The German police are unable to determine the motive of the attack but is determined and  "continung to  investigate every possibility."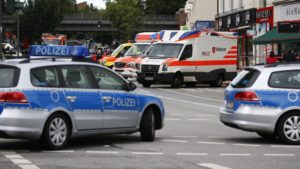 Germany has been on high alert, especially since last December's truck attack [Morris Mac Matzen/Reuters]