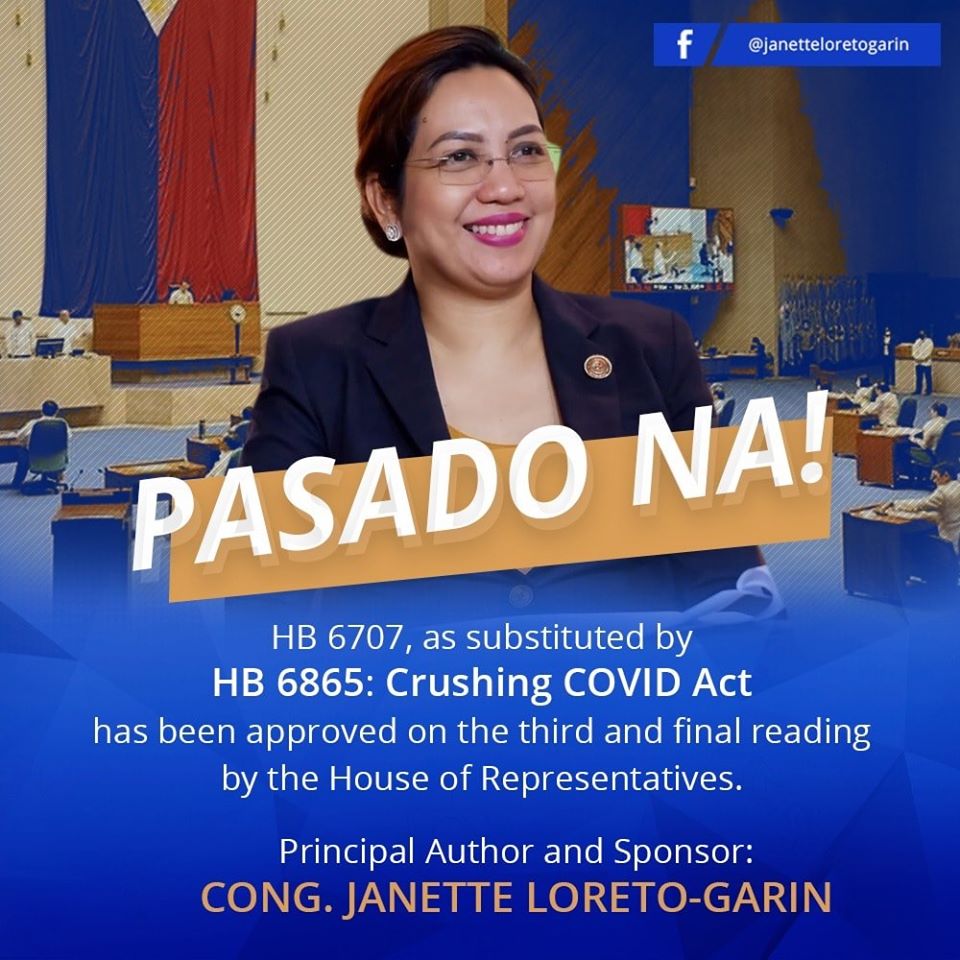 Last Thursday, May 28, the House Defeat COVID-19 committee approved House Bill 6707 or the Crushing COVID Act.
The House Bill 6707 or the Crushing COVID Act is authored by House Senior Deputy Minority Leader Janette Loreto-Garin, a former health secretary.
Janette Loreto Garin is a  physician and politician. She  is currently the Representative for the 1st District of Iloilo. 
HB 6707  aims to set an "available, affordable, and accessible" government testing protocol for the conduct of Baseline Polymerase Chain Reaction Testing (Baseline PCR Testing) for COVID-19  to Filipinos.
Representative Garin's proposal also provides that Filipinos who are considered to be vulnerable to COVID-19 should be covered. Included in this sector are persons returning to work who have co-morbidities; senior citizens, persons who are obese and are immunocompromised and foreign national entering the Philippine territory.
However, Foreigners will have to pay for the cost of testing.
The cost of testing for Filipinos covered by HB 6707 would be shouldered by the government through the COVID Testing Assistance Fund, where the amount would be charged to either the Philippine Health Insurance Corporation, the Department of Health's Medical Assistance Program, or the Department of Social Welfare and Development's Medical Assistance Fund.
An imported RT-PCR test kit costs between P3,000 to P8,000, while the COVID-19 test kit developed by scientists from the University of the Philippines (UP) cost much lower between P2,700 to P3,000. The local test kits, however, are yet to be mass produced.
To learn more about HB 6707 click the link below:
Photos from Representative Janette Garins Official FB account