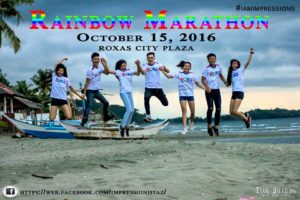 The First Rainbow Marathon for a cause was held in Roxas City, Capiz last October 15, 2016 at the Roxas City Plaza.
The Marathon was organized by Maria Renker and Bahaghari in line with  BAHAGHARI's National Campaign entitled "#KKKabog!" (Kabuhayan, Lupa at Dagdag-Sahod, Kalusugan at Iba Pang Serbisyo, Kontra Diskriminasyon at Karahasan) is currently being launched nation-wide. As the second activity of BAHAGHARI in Region 6, it aims to:
Mobilize LGBTs in different parts of the country and to assist them in creating their own LGBT organization which embodies the LGBT advocacy that fights for a discrimination-free society.
Educate LGBTs about HIV and AIDS, Condom Use and strategies for the continued prevention and treatment of the virus.
To successfully draft and write Roxas City's first Anti-Discrimination Ordinance that would protect the rights of members of the LGBT Community.
Support the Anti-Mining activity in the Province of Capiz
The winners of the 42k category are Bernie Murillo, Champion (2hrs., 22min.), Roger Molinos, First runner-up (2 hours, 23min.) and Medindo Milanes, 2nd runner-up (2 hours, 53 min.).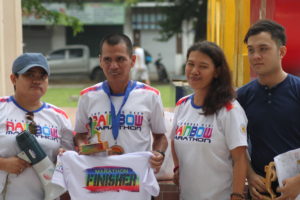 The winners of the 21K category are Romnick Dago, Champion ( 1 hour, 12 minutes), Ian Casuyon, First runner-up (1 hour, 40 min.) and Joven Cubero 2nd runner-up (1 hour, 41 min.).
The winners of the 10K category are Jovel Patricio, Champion (35min.), Darryl Onato, First runner-up (38 min.) and Glealyn Casugbo, 2nd runner-up (1 hour, 10 min.).
The winners of the 3k category are Christobal Cusay, Champion (12 min.), Paul Anzon Milanes, First Runner-up (12 min., 7 sec.) and Jeff Ryan Salgado, 2nd runner-up (18 min.).
The marathon was supported by Pepsi, Yakult through Federico Senen Rentoy, Elegance Events, Cravers Diner, The Fragrance Bar PH, Usana, The Laundry Box, Impressions, MTCM Models Talents and Creative Management, Capiz Cycling Club, Ysabels Steak House, MCR Production PH and Little Brown Man. Also present to lend a hand was the Capiz Emergency Response Team  (CERT), Capiz Red Cross, The PNP and the different Baraggays of Roxas City specifically Lawaan, Bolo, Lanot, Loctugan, Bago, Milibili, Tiza, Banica, New Road, Gabuan, Dumulog and Bay Bay.
Photography by: tian billedo photography