by  Dr. Nieves Villamor-Aguirre, LLB
Part I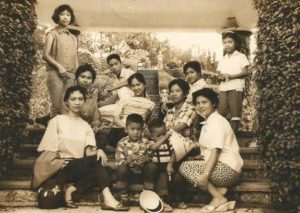 Childhood sometimes gives you a hint of what you will become. I could still vividly remember my first love and something that I will be happy taking care of until I retire, plants.
When I was younger my mother used to plant different varieties of vegetables such as squash, malabar spinach, tomatoes and pepper in the little space that we had in our old home. Besides the vegetables that we had in our front yard, my mother also had roses and rosal. I loved these flowers so much I have them in our garden until now. I could also remember the winged beans, lemon grass and bananas  and the white squash or "upo" which used to climb on the roof of our nipa hut in our backyard. The harvest was so plentiful that we had to request somebody to ferry the excess to the market which is less than a kilometer from the house.
I also remember in our windows and balcony or "balkon" (in our native tongue) are the  pots that lined up, it was filled with ornamental plants like bougainvilla and shrimp plant (often called the Sta. Claus Plant). Luckily, a pepper or a tomato plant may surface without anyone planting it in those pots. I love my Mom's  plants. It kept me busy getting its leaves to play with, I would pretend that I am a market vendor selling vegetables or as what we use to call it "baligya-baligya" alone or with my brothers. I also have to ensure  that  only a few leaves will be taken from each plants.
 Nature played a big role back then and  I think it's a typical Filipino childhood when kids would cook "laswa" or boiled vegetables in cannisters or clay pots, I did that, or climb trees and pretend to be cowboys and indians, we did that too. No texting, no computers, just us kids running around, playing, forming a bond with the neighborhood kids, sweaty,bruised, bleeding but happy, yes, it was the happiest days of our lives.