Joachim Zettler (left), CEO of Airbus APWorks GmbH and Airbus Group CEO Tom Enders presenting 'Light Rider', the world's first 3D-printed motorcycle
Chief executive of Airbus Group Tom Enders went for a drive on a 3-D printed motorcycle dubbed as the "Light Rider", produced by German subsidiary APWorks.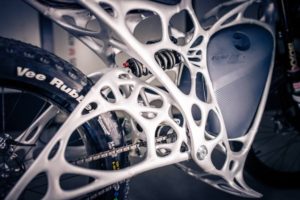 Joachim Zettler, chief executive of APWorks, said 3D printing had made it possible to produce the special frame. It is 30 percent lighter than other electric motorcycles, the e-motorbike weighs just 35 kilograms (77 pounds) which has a 6 kiloWatt engine, has a hollow-looking frame that helped bring down its weight, according to Airbus subsidiary APWorks, yours for €50K. A €2,000 deposit is required to join the waiting list.
3D printing, also known as additive manufacturing (AM), refers to various processes used to synthesize a three-dimensional object.
Airbus is trying to apply the same principle on aircraft.The group plans to present a 3-D printed twin-engined aircraft prototype at the Berlin Air Show in June.
photo courtesy of www.3ders.org