United for the last time, this is the Brazilian football team posing together in front of a passenger jet before their doomed flight crashed in Colombia, killing 71 on board.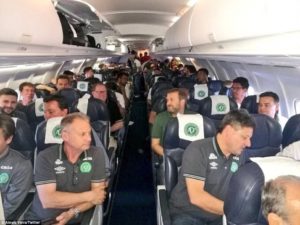 As an underdog, it joined Brazil's first division in 2014 for the first time since the 1970s and made it last week to the Copa Sudamericana finals – the equivalent of the UEFA Europa League tournament – after defeating Argentina's San Lorenzo.  The Chapecoense team, is from the small city of Chapeco.
The Avro RJ85 plane,  suffered power failures while flying through the Antioquia Department on its way from Bolivia. The pilot is believed to have circled around before crash landing in a desperate bid to lose fuel and avoid an explosion on impact.
 They included 20 players, the manager Caio Junior and four other members of his coaching team including an assistant manager, a personal trainer, a kinesiologist and a masseur who is said to be among the survivors. The club's president and vice-president were also on board along with other club managers.
The team were only about five minutes from their destination when they crashed.  Among those believed to have perished on the flight to Medellin are dozens of sports journalists and well-known football commentators making their way to report on Chapecoense's history-making game.
 They include a six-strong team from FOX Sports, three reporters from Brazil's main Globo TV channel, among a total of 21 members of the media.  Among the team from FOX, which was broadcasting the game, were famous commentators Devair Pascovicci and Mario Sergio, as well as respected football journalist Victorino Chermont. It also emerged Anderson Paixao, the trainer of both Chapecoense and the Brazilian national side, is among those not accounted for.