What does humanity mean to you?
"Humanity is when we do something good to our fellow human and all the things around us." – Jesus Eleseo Almeida, Photographer
The Photographer
Jesus Eleseo Almeida, a Capizeño, an OFW. His first camera was a Sony Cybershot, a gift from his sister 8 years ago, this moment changed his life. "Jake" as fondly called by his family and friends, is a self taught photographer. His skill and passion for taking pictures came naturally.
In 2010, landing a job for a Tourism magazine in Cambodia, gave Jake an opportunity to further develop his skills in photography. Jake was inspired  by the Khmer culture, from their unique traditions to their syncretism of indigenous animistic beliefs to  religions of Buddhism and Hinduism. He learned more about it through his travels around Cambodia.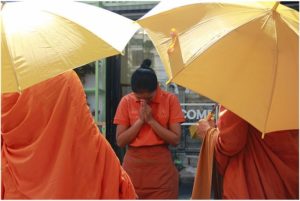 Jakes winning entry in the 2014 Canon Photo Marathon Cambodia
4 years later, he competed and won in the open category for the "The Expressions of Phnom Penh" during the fourth annual Canon PhotoMarathon (Cambodia). 800 participants filled the Koh Pich Building G auditorium.
Currently, Jake works for Studio M as a wedding and events photographer, capturing priceless moments and memories that will last forever.
If Jake is not behind the lens or his MacBook, he enjoys cycling, playing football or basketball with his friends. He likes to travel or walking along the streets of Phnom Penh, and yes, out there taking pictures.
Below are a few of his work.